Organic Maca
2014/12/26 11:21:59  Views:
1565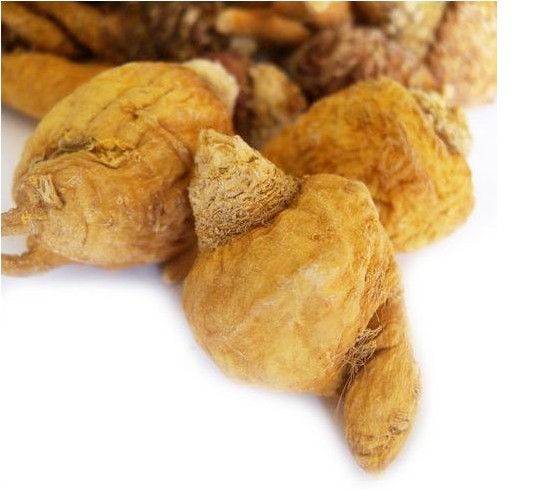 Maca is herbaceous plant with annual growthbelongs to Lepidium Brassicaceaeoriginally planted in the Andes area with above 4000m altitude in Peru. It can grow normally in the special environment of no fertilizeroxygen deficitlargetemperature difference between day and night and long-term frozen. Maca is commonly known as Lepidium Meyenlimeanwhilewith the match ginseng in nutritional ingredientsreinforcing stamina and enduranceso it is also know as Peruvian-Ginseng and Peru national treasure. Till years 1982under the effort of FAO and IPGRIthis precious plant was at last widely promoted around the world. After thatFAO and other organizations recommended it to the world times and times againindicated it is a safe food with rich nutritional ingredientsand can solve kinds of health problems which caused by nutrient deficiency.
Macafrom the first day it came to YunnanChina in 2002was widely planted in the western Yunnan province. Now it has large area in LijiangDiqingQujingZhaotongetc. Considering its naturalsafe and magical health care functionit gets more and more popular recently. Now it is a star agricultural product which brings great wealth.
The western Yunnan province area with altitude above 3000mis a small mountain area of cold temperature zone around Lijiang Jade Dragon Snow Mountainalso as the most suitable region for Maca planting. It has the location advantages of high altitude and low latitudemeets the geographical and climate conditions for the growth of Maca completely. With the traditional agricultural culturebetter planting and production systems compared with Peruthe quality of Maca in this area is already beyond that of in Peru.
Main Functions:
1.Resist tireenhance energy;
3.Enhance physical strength;
4.Adjust incretion systembalance hormone;
6.Improve the menopause symptom of female and male;
7.Improve the female's pregnant ability;
8.Reduce blood fat content;
Contrast of Dried Maca from Peru and China
The main contents:
Unit: g/100g
| | | |
| --- | --- | --- |
| Contents | LijiangChina | Peru |
| Water | 9.73 | 11.91 |
| Protein | 16.18 | 13.35 |
| Fat | 0.95 | 8.84 |
| Crude Fiber | 21.57 | 22.36 |
| Carbohydrate | 47.49 | 39.30 |
| Ash Contents | 4.08 | 4.24 |
| VC | 0.36 | 0.40 |
| Energy (J/g) | 15865 | 17273 |
Mineral substance:
Unit: mg/100g
| | | |
| --- | --- | --- |
| Contents | LijiangChina | Peru |
| K | 17.56 | 15.32 |
| Na | 23.08 | 19.62 |
| Ca | 3460 | 2840 |
| Mg | 1310 | 1050 |
| Cu | 0.95 | 0.53 |
| Zn | 2.80 | 1.22 |
| Fe | 1.02 | 11.71 |
| Se | 0.02 | null |
| P | 2700 | 2990 |
| Cr | 0.02 | 0.04 |
Amino acid:
| | | |
| --- | --- | --- |
| Items | LijiangChina | Peru |
| Proline | 5290 | 4460 |
| Arginine | 2960 | 600 |
| Glutamate | 829 | 640 |
| Aspartic | 752 | 550 |
| Lysine | 662 | 340 |
| Valine | 566 | 440 |
| Leucine | 529 | 400 |
| Glycine | 462 | 330 |
| Threonine | 418 | 270 |
| Isoleucine | 408 | 290 |
| Serine | 394 | 270 |
| Phenylalanine | 392 | 370 |
| Alanine | 387 | 400 |
| Histidine | 265 | 150 |
| Tyrosine | 250 | 200 |
| Cystine | 106 | 90 |
| Methionine | null | 20 |
| Total Amino Acid | 14670 | 9620 |
Fatty Acid:
| | | |
| --- | --- | --- |
| Items | LijiangChina | Peru |
| Linoleic Acid | 22.08 | 3.02 |
| Linolenic Acid | 40.64 | 1.15 |
| Palmitic Acid | 20.22 | 29.38 |
| Palmitoleic Acid | 0.50 | null |
| Oleic Acid | 2.58 | 1.14 |
| Myristic Acid | 0.32 | 0.27 |
| Stearic Acid | 1.71 | 62.86 |
| Lauric Acid | 0.78 | null |
| Pentadecanoic Acid | 0.33 | null |
| heptadecanoic Acid | 0.31 | null |
| Arachidic Acid | null | 0.58 |
| Unsaturated Fatty Acid | 65.80 | 5.31 |
| Saturated Fatty Acid | 23.67 | 93.03 |
,